Twitch.tv
is an integral part of the gaming community, for both hobbyists and professional gamers. The online platform allows individuals and groups to stream a multitude of content from first-person games to world-wide competitions.
The Challenge
Twitch creators who are interested in expanding their outreach through a developed brand lack the resources
and set of standards needed to create an attractive and approachable channel in order to build
a stronger, larger, and more inclusive community.
The Question

How can Twitch.tv creators develop a more attractive, approachable environment within their channels with ease and integration, without sacrificing the integral creative freedom that is at the core of Twitch, in order to grow their audience(s), and strengthen and expand the community as a whole?
Disclaimer: Twitch.tv, Twitch Logo(s) and are trademarks or trade dress of Twitch Interactive, Inc. Twitch is not in affiliation with, endorsing, or sponsoring Twitch Overlay Editor and Twitch University, as they are purely conceptual projects developed for personal exploration.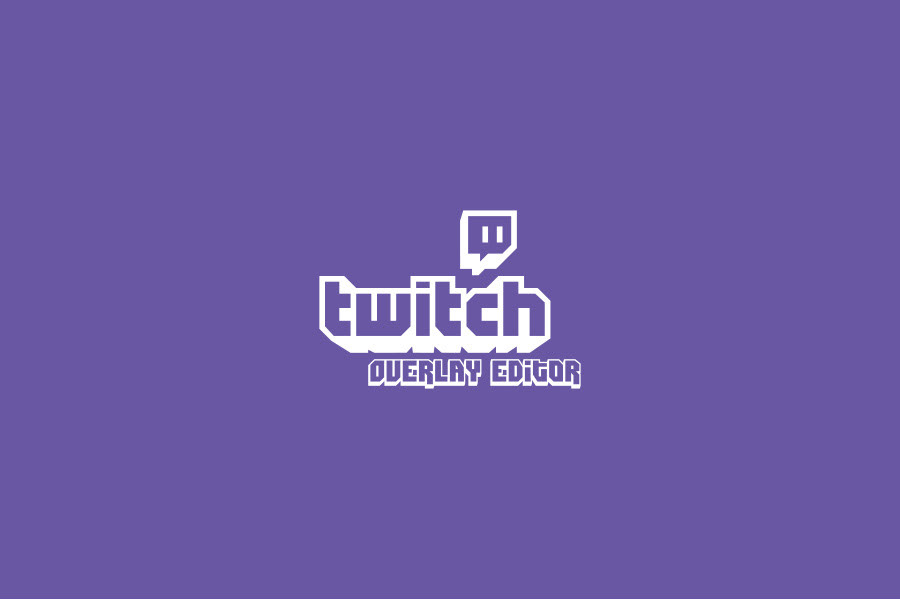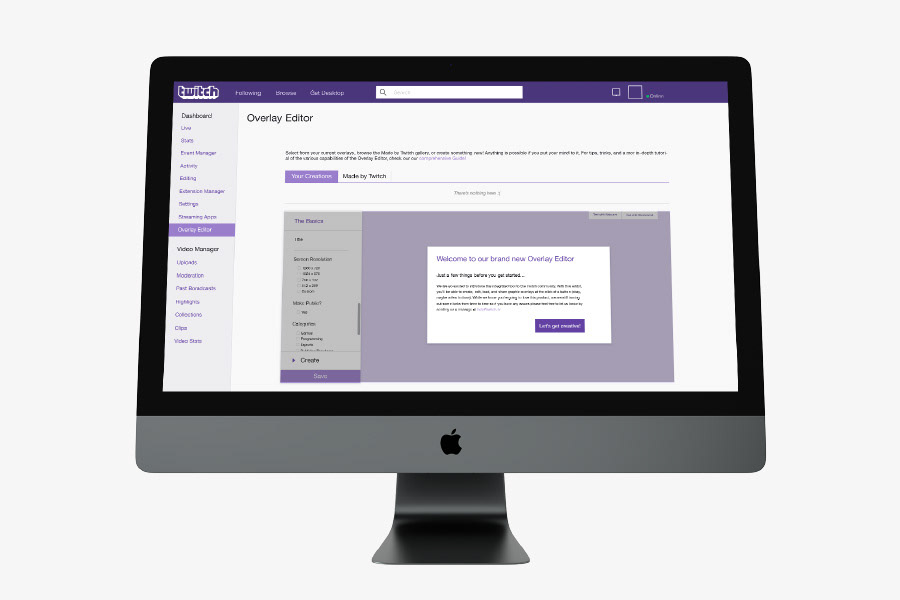 Shown: A walkthrough of the screens designed for Twitch Overlay
Twitch Overlay Editor's integrated software allows streamers on Twitch.tv to create customized graphic overlays for their individual channels. The program offers themes created both by Twitch and the Twitch Community, widgets that drag, drop and snap in place, as well as tips on creating a top-tier graphic overlay. The interface mimics Twitch's established brand so users will feel connected with the familiar environment.
∗ When a user drags a widget onto the editing field for the first time, a helpful tip will pop up. This acts as a gentle guidance towards the set of standards for creating a successful overlay. 
∗ After the user clicks "Got it!" the tip will not appear again, however, the user can always access these tips and more through the Guide.
∗ With the widgets in place, the user chooses to get an idea of what the overlay will look like in-game by uploading a screenshot through the button in the upper, right-hand corner.
∗ Clicking on Overlay Editor after having created a number of themes changes the initial layout of the page, allowing for easy access to personal themes or the "Made by Twitch" gallery. 
∗ Hovering over a thumbnail allows the user to access various actions: loading the theme for streaming, editing, duplicating, deleting and publishing it to the public gallery.
Shown: Process book for the Twitch Overlay project.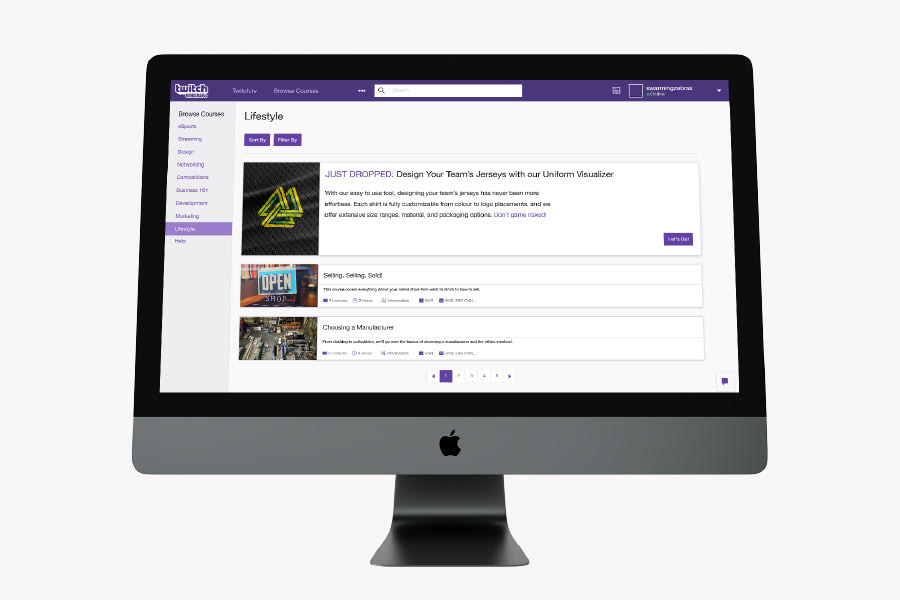 Twitch University acts as the main hub for all of the resources an eSports team might need, ranging from webinars to jersey creation and purchasing, important contact information to forms for signing up for various tournaments and competitions. This platform becomes an essential toolkit for the teams, and the central location and partnership with Twitch makes it easily accessible.
Twitch University makes branding a team that much easier through the Uniform Visualizer. This enables teams to create, customize, and order jerseys without leaving the Twitch interface or losing access to valuable information provided by the webinars. A variety of features are built in, such as area selection, in-depth colour management, and automatic design overlay when switching between products.
For a deeper dive into how a team has utilized this tool, check out the branding of
Team Aesir.
Shown: A walkthrough of the screens designed for Twitch University and Uniform Visualizer integration.